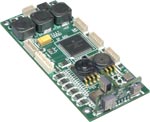 Specifications






6 Degree-of-Freedom MEMS IMU / GPS Autopilot Module
The PhoenixAX is a six degree-of-freedom IMU & GPS navigation module specifically designed for autonomous vehicle research. The PhoenixAX has tri-axial MEMS based angular rate and accelerometer sensors with a full featured GPS receiver on a single board. The PhoenixAX also features on-board static/dynamic pressure sensors for aircraft applications and temperature sensor for compensation. Accelerometer options for ±1.5g, ±2g & ±10g's. Angular rate gyro sensitivities of ±150 or ±300°/sec. The PhoenixAX has six gain stages for accelerometers and rate gyros. Standard systems are factory set for unity gain. High performance 5th order elliptic filters on all IMU channels configurable from 1-100Hz. Advanced IIR filtering and kalman filtering available. The PhoenixAX includes data pump software which digitizes and reports sensor data via a logic level serial channel. Intended for user programmed applications such as UAV stability, control and navigation, the PhoenixAX is compact and low cost. O-Navi has an extensive line of development tools available for the PhoenixAX.
=OEM INERTIAL SENSORS


INERTIAL
ANGULAR RATE
Angular Rate Range: ±200°/sec (±400°/sec available)
Resolution: 0.3°/sec
Bandwidth: 48Hz (Default -- 1-100Hz available)
Filtering: 5TH Order
Start-up Time: <1.2 sec

ACCELERATION
Acceleration Range: ±2g (±10g and higher available)
Resolution: 4mg (±2g)
Bandwidth: 48Hz (Default -- 1-100Hz available)
Filtering: 5TH Order

STATIC-DYNAMIC PRESSURE
Static Pressure Range: 15-115kPa (Absolute)
Dynamic Pressure Range: 0-3.92kPa (Differential)
Static Altitude: 0-42,500FT (13km) Std. Atm.

DIGITAL SECTION
CPU Speed: 32MHz (Motorola MMC-2114)
RAM: 32K
FLASH: 256K
Sampling Rate: 1, 10, 20, 50, 75 & 100Hz (User Selectable)
ADC Resolution: 10bits (1024:1)
Interface: TTL Serial - 4800 - 115.2kbps (N81 - User Selectable)
Serial Connector: JST - B6B-ZR
Mating Connector: JST - ZHR-6
PWM Channels: 6 (R/C Servo compatible)
PWM Power Supply: 5V @ 3.5A (Dedicated) Power std R/C Servos

ELECTRICAL
Power Connector: JST - B4B-ZR
Mating Connector: JST - ZHR-4
Input Voltage: 7.2-24V
Current: 84mA (12V - w/GPS)
Power: 1010mW (12V w/GPS)
Power [No GPS]: 876mW (73mA @ 12V)
Power consumption does not include servos.

PHYSICAL
Temp Range (OP): -40 to +85°C
Temp Range (NOP): -50 to +90°C
Vibration (NOP): -
Shock (NOP): 500g
Mass: 45.3g (Incl GPS)
Dimensions: 1.58" X 3.47" X 0.75"

DEVELOPMENT KITS
The follwoing kits are essential to power up, communicate and program the PhoenixAX Autopilot module:
970-0100A - Flash programming Kit (PE Micro H/W, S/W & Cable)
970-1201A - AC Power Kit (AC Power Supply & Cables)
975-0300A - PC Serial Interface Kit (Cables & RS-232 Adapter)
425-0141A - Packaged GPS Antenna with 5M Coax
605-0408A - Stand-offs and Screws
All items can be purchased in kits or as components.

TELEMETRY KITS
900MHz Telemetry Kit (Mobile & Base Unit w/Antennas & Cables)
2.4GHz Telemetry Kit (Mobile & Base Unit w/Antennas & Cables)

ORDERING INFORMATION
23506-200-0020-AA - Gyro: ±200°/sec / Acceleration: ±2.0g / (48Hz)
23506-400-0100-AA - Gyro: ±400°/sec / Acceleration: ±10.0g / (48Hz)
Other inertial configurations available, contact factory.
PRICE LIST PDF
CABLING DIAGRAM PDF

Increased sensitivity available. Please contact us for details.
SPECIFICATION SUBJECT TO CHANGE WITHOUT NOTICE
PAT. PEND.