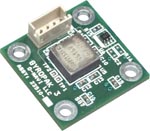 Specifications






Single Axis MEMS Gyro Module
The GyroPAK3 is a member of the GyroPAK series of 'packaged' sensors. These products are single axis MEMS angular rate sensor modules with analog outputs. GyroPAKs are intended for custom packaging configurations and precision alignment in customer specific structures. The GP-3 measures 20mm on a side and can easily be mounted in a cube less than one inch. An optional digitizer module is available for easier interface to digital systems. On-board temperature sensor for compensation. Gain stage for increasing angular sensitivity.

=OEM INERTIAL SENSORS


INERTIAL
Angular Rate Range: ±200°/sec (±400°/sec available)
Bandwidth: 40Hz
Start-up Time: <1 sec

ELECTRICAL
Output: 0-5V (Center 2.5V (0°/sec Bias - nominal)
Interface Connector: JST - B4B-ZR
Mating Connector: JST - ZHR-4
Input Voltage: 5V (±5%)
Current: 7.5 mA
Power: 37.5mW

PHYSICAL
Temp Range (OP): -
Temp Range (NOP): -
Vibration (NOP): -
Shock (NOP): -
Mass: 1.75g
Dimensions: 20 X 20 X 6MM

SPECIFICATION SUBJECT TO CHANGE WITHOUT NOTICE.
OPTIONS
GyroPAK3 Development Kit
Includes: Interface Cable, DC Power Supply, Stand-offs and Screws

Cable with Power Supply Connector - P/N: 305-0435A PDF
Cable with Flying Leads - P/N: 305-0406A PDF
DC Power Supply (5V) - P/N: 310-0502B PDF
Digitizer/MX Module with Serial Output - LINK
Serial/Power Cable for DigititzerMX - PDF
Stand-Off/Mounting Kit PDF
ORDERING INFORMATION
23510-200-00-A - Gyro: ±200°/sec (40Hz)
23510-400-00-A - Gyro: ±400°/sec (40Hz)

Increased sensitivity available. Please contact us for details.

PRICE LIST PDF
CABLING DIAGRAM PDF